About
You are the answer to every prayer I've offered. You are a song, a dream, a whisper, and I don't know how I could have lived without you for as long as I have.
Newer posts are loading.

You are at the newest post.
Click here
to check if anything new just came in.
Everything You Need To Know Concerning Achilles Tendinitis
Overview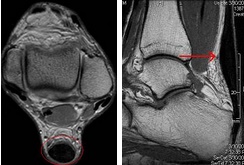 Achilles tendonitis, also sometimes called Achilles tendinitis, is a painful and often debilitating inflammation of the Achilles tendon (heel cord). The Achilles tendon is the largest and strongest tendon in the body. It is located in the back of the lower leg, attaches to the heel bone (calcaneus), and connects the leg muscles to the foot. The Achilles tendon gives us the ability to rise up on our toes, facilitating the act of walking, and Achilles tendonitis can make walking almost impossible. There are three stages of tendon inflammation, Peritenonitis, Tendinosis, Peritenonitis with tendinosis. Peritenonitis is characterized by localized pain during or following activity. As this condition progresses, pain often develops earlier on during activity, with decreased activity, or while at rest. Tendinosis is a degenerative condition that usually does not produce symptoms (i.e., is asymptomatic). It may cause swelling or a hard knot of tissue (nodule) on the back of the leg. Peritenonitis with tendinosis results in pain and swelling with activity. As this condition progresses, partial or complete tendon rupture may occur. The overall incidence of Achilles tendonitis is unknown. The condition occurs in approximately 6-18% of runners, and also is more common in athletes, especially in sports that involve jumping (e.g., basketball), and in people who do a lot of walking. Achilles tendonitis that occurs as a result of arthritis in the heel is more common in people who are middle aged and older.
Causes
There are a number of causes and risk factors associated with Achilles Tendinitis. One of the most common causes is simply a lack of conditioning. If the tendon, and muscles that connect to the tendon, have not been trained or conditioned, this can lead to a weakness that may result in an Achilles injury. Overtraining is also associated with Achilles Tendinitis. Doing too much, too soon places excessive strain on the Achilles tendon and doesn't allow the tendon enough time to recovery properly. Over time small tears and general degeneration result in a weakening of the tendon, which leads to inflammation and pain. Other causes of Achilles injury include a lack of warming up and stretching. Wearing inadequate footwear, running or training on uneven ground, and simply standing on, or in something you're not meant to. Biomechanical problems such as high arched feet or flat feet can also lead to Achilles injuries.
Symptoms
Achilles tendonitis may be felt as a burning pain at the beginning of activity, which gets less during activity and then worsens following activity. The tendon may feel stiff first thing in the morning or at the beginning of exercise. Achilles tendonitis usually causes pain, stiffness, and loss of strength in the affected area. The pain may get worse when you use your Achilles tendon. You may have more pain and stiffness during the night or when you get up in the morning. The area may be tender, red, warm, or swollen if there is inflammation. You may notice a crunchy sound or feeling when you use the tendon.
Diagnosis
During the physical exam, your doctor will gently press on the affected area to determine the location of pain, tenderness or swelling. He or she will also evaluate the flexibility, alignment, range of motion and reflexes of your foot and ankle. Your doctor may order one or more of the following tests to assess your condition, X-rays. While X-rays can't visualize soft tissues such as tendons, they may help rule out other conditions that can cause similar symptoms. Ultrasound. This device uses sound waves to visualize soft tissues like tendons. Ultrasound can also produce real-time images of the Achilles tendon in motion. Magnetic resonance imaging (MRI). Using radio waves and a very strong magnet, MRI machines can produce very detailed images of the Achilles tendon.
Nonsurgical Treatment
With proper care for the area, the pain in the tendon should lessen over three weeks, but it should be noted that the healing of the area continues and doesn't even peak until at least six weeks following the initial injury. This is due to scar tissue formation, which initially acts like the glue to bond the tissue back together. Scar tissue will continue to form past six weeks in some cases and as long as a year in severe cases. After 6 months this condition is considered chronic and much more difficult to treat. The initial approach to treating Achilles tendonitis is to support and protect the tendons by bracing any areas of the tendon that are being pulled on during use. It is important to loosen up the tendon, lessen the pain, and minimize any inflammation.
Surgical Treatment
Surgery is considered the last resort and is often performed by an orthopedic surgeon. It is only recommended if all other treatment options have failed after at least six months. In this situation, badly damaged portions of the tendon may be removed. If the tendon has ruptured, surgery is necessary to re-attach the tendon. Rehabilitation, including stretching and strength exercises, is started soon after the surgery. In most cases, normal activities can be resumed after about 10 weeks. Return to competitive sport for some people may be delayed for about three to six months.
Prevention
By properly training the body, an athlete can build the strength of their tendons and muscles. Following a workout and dieting plan, the body will be able to build muscle and strengthen most effectively. Additionally, doing the following can prevent tendinitis. Wearing appropriate shoes will give your foot the support it needs for proper movements of the foot and ankle. Improper movements will put additional stress on your body. Stretching before an athletic activity, Stretching primes the body for a taxing activity. Additionally, this will get your blood flowing and reduce the risk of pulling a muscle. Ask your doctor about orthotics, Custom orthotics can help get your foot into proper alignment. If the foot does not execute proper mechanics, the body will adjust which will cause pain and increase the chances of injury.